Effec­ti­ve event equipment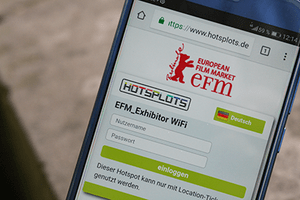 The "Euro­pean Film Mar­ket" trade fair that accom­pa­nies the Ber­li­na­le film fes­ti­val bro­ke all pre­vious records in 2017. More than 9,500 visi­tors from 108 nati­ons came to the exhi­bi­ti­on at its sites in the Mar­tin Gro­pi­us Buil­ding, the Mar­riott Hotel and Gro­pi­us Park.
A tem­po­ra­ry HOTSPLOTS WiFi was again set up for all the Euro­pean Film Mar­ket visi­tors, exhi­bi­tors and employees this year. Log­in Screen EFM Visitors.
In col­la­bo­ra­ti­on with our part­ner, Sen­se GmbH, our staff install the infra­struc­tu­re requi­red for this (e.g. access points) and pro­vi­de the DSL access. The com­ple­te ser­vice ran­ges from hiring the hard­ware through to indi­vi­du­al­ly con­fi­gura­ble landing pages and log­in sites.
"We would like to thank the team from HOTSPLOTS and Sen­se for the easy coope­ra­ti­on and their com­pre­hen­si­ve ser­vice on site. Fast WiFi and a good Inter­net con­nec­tion is essen­ti­al for our visi­tors and con­tri­bu­tes direct­ly to the suc­cess of the event and to visi­tor satis­fac­tion." (Peter Domsch, EFM)