For a safer com­mu­te — know in advan­ce how crow­ded your bus is
In Offen­burg, WiFi data is used to dis­play the capa­ci­ty of buses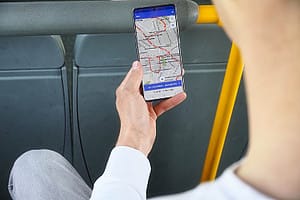 The city of Offen­burg has been loo­king for a solu­ti­on to the cur­rent cri­ti­cal pas­sen­ger allo­ca­ti­on in its city bus ser­vice. The tar­get group of the pro­ject is pri­ma­ri­ly school­child­ren and com­mut­ers who have to deal with over­c­row­ded and delay­ed buses, espe­ci­al­ly during rush hour. Howe­ver, the ser­vice is also available to all other pas­sen­gers in Offen­burg free of char­ge. Fur­ther­mo­re, due to the COVID-19 pan­de­mic, addi­tio­nal buses are being used in a tar­ge­ted man­ner in order to mini­mi­se the high uti­li­sa­ti­on. The new­ly deve­lo­ped Bus⁺ app pro­vi­des all important infor­ma­ti­on to enable an auto­ma­ted, self-deter­mi­ned dis­tri­bu­ti­on of pas­sen­gers and opti­mal­ly sup­ports the deploy­ment of the extra buses. In addi­ti­on, this infor­ma­ti­on can be acces­sed via a web­site and thus can also be used wit­hout down­loa­ding the app. The pro­ject was imple­men­ted in coope­ra­ti­on with the mayor, the Depart­ment for Digi­ta­li­sa­ti­on and IT, the Depart­ment for Sports and Schools tog­e­ther with the Tech­ni­sche Betrie­be Offen­burg, the ope­ra­tor of the city bus ser­vice. On the tech­ni­cal imple­men­ta­ti­on side, new­con GmbH coope­ra­ted as pro­ject mana­ger with the Ber­lin-based com­pa­ny hot­splots GmbH.
"At first, we had thought of the sys­tem for our school­child­ren — but in fact the Bus⁺ App makes the use of public trans­port in Offen­burg even more con­ve­ni­ent for ever­yo­ne and, in the­se times, safer."
Hans-Peter Kopp, Mayor for Finan­ce and Social Affairs in Offenburg
Fast imple­men­ta­ti­on using exis­ting WiFi
All city buses were alre­a­dy equip­ped with WiFi rou­ters from hot­splots GmbH. Sin­ce 2015, Süd­west­deut­sche Lan­des­ver­kehrs-AG (SWEG), as the ser­vice pro­vi­der of Offenburg's city bus trans­port, has offe­red public WiFi from HOTSPLOTS. The approach of using the rou­ters as a tech­ni­cal basis for dis­play­ing live loca­ti­on and uti­li­sa­ti­on was deve­lo­ped and advan­ced by new­con GmbH tog­e­ther with hot­splots GmbH.
A par­ti­cu­lar chall­enge was the assign­ment of the buses to their rou­tes. Sin­ce not every bus always runs the same rou­te at the same time, this assign­ment is deter­mi­ned with the help of intel­li­gent heu­ristics. The real-time loca­ti­on of the buses is com­pared with the tar­get time­ta­ble data and sta­tis­ti­cal methods are used to cal­cu­la­te which line the jour­ney is on. After exten­si­ve test­ing, the sys­tem works relia­bly, and fur­ther opti­mi­sa­ti­ons are being work­ed on continuously.
Data pro­tec­tion is a priority
With Bus⁺, new­con GmbH, tog­e­ther with the city of Offen­burg and hot­splots GmbH, has crea­ted a new way to mea­su­re and dis­play loca­ti­ons and uti­li­sa­ti­on in public trans­port. In par­ti­cu­lar, the requi­re­ment to deve­lop the sys­tem in full com­pli­ance with data pro­tec­tion regu­la­ti­ons posed a chall­enge for all tho­se invol­ved, which was suc­cessful­ly achie­ved with the help of the Sta­te Com­mis­sio­ner for Data Pro­tec­tion and Free­dom of Infor­ma­ti­on of Baden-Wuerttemberg.
Suc­cessful launch with top reviews from users
In the first weeks, the pro­duct was very suc­cessful­ly recei­ved. Both new­con GmbH and the City of Offen­burg con­sider the more than 1700 acti­ve users of the app to be an out­stan­ding suc­cess of the pro­ject. The suc­cess of the appli­ca­ti­on is evi­dent not only from the user num­bers but also by the ratings in the app stores. Here, an avera­ge of 4.9 out of 5 pos­si­ble stars was achie­ved. One user says: "The app is a real sup­port in my ever­y­day life! It allows me to orga­ni­se my time very fle­xi­bly and I am much less annoy­ed by bus rides or wai­ting expe­ri­en­ces. Thank you for it!"
"We are very plea­sed that our home town is cou­ra­ge­ous enough to come up with an inno­va­ti­ve solu­ti­on. Offen­burg is a pio­neer with live pas­sen­ger load and live GPS position."
Phil­ipp Kreit, Foun­der & Mana­ging Direc­tor new­con GmbH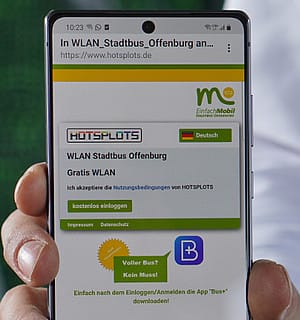 Inno­va­ti­ve solu­ti­on for cities and municipalities
new­con GmbH would now like to extend the Bus⁺ offer to other muni­ci­pa­li­ties and dis­tricts. Many public aut­ho­ri­ties have alre­a­dy equip­ped their public trans­port with public WiFi, e.g. from HOTSPLOTS, and with Bus⁺ they can now take the next step towards the Smart City. The ser­vice con­tri­bu­tes to modern pas­sen­ger ser­vice and makes the use of public trans­port more com­for­ta­ble, self-deter­mi­ned and safe. In addi­ti­on, the attrac­ti­ve­ness of local public trans­port is increased and posi­ti­ve effects on a reduc­tion of CO2 emis­si­ons and the achie­ve­ment of cli­ma­te tar­gets are realised.